Parkland, FL AC Repair, AC Service, Air Conditioning Maintenace Agreements  with HVAC Repair and HVAC Service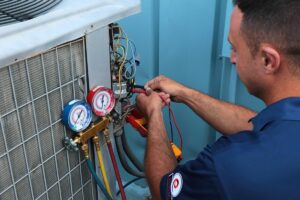 You can rest easy if you have been searching for a company that can provide you with reliable air conditioning services in Parkland, Florida. We are the air conditioning sales, air conditioning installation, and AC repair resource that people throughout Broward County have been relying on for more than four decades, and we serve this community with a great deal of pride. The city is an idyllic place to live, and it attracts people who settle for nothing less than the very best. We can provide prompt AC repair service to all parts of town, from Heron Bay to Parkland Isles, so help will always be just a phone call away.
Air Conditioning Sales of Commercial and Residential Air Conditioning
If you are in need of a new air conditioner because your old AC unit is beyond repair, or if you simply want to upgrade to a more energy efficient HVAC system, we certainly have you covered. One of our air conditioning sales specialists can gain an understanding of your needs, explain your options to you, and help you make the right choice. As we have stated, we have been doing business in this area for a very long time, and we have developed sound relationships with top quality manufacturers. They give us rock bottom prices, and we pass the savings along to our Parkland, Florida air conditioning customers. As a result, you get the best of both worlds: extraordinary quality and value-based pricing. We also have you covered when it comes to air conditioning installation work, and we are proud to be able to say that our air conditioning installation technicians are second to none.
HVAC Repair and HVAC Service in Parkland, FL
You will not find a more effective local resource for residential air conditioning sales, service, and installations, but our offerings do not stop there. We bring a great deal of commercial air conditioning expertise to the table as well. Our company can accommodate commercial air conditioning installation projects of any size or scope, and we can also provide a prompt response to any type of commercial air conditioning service request.
Contact Quality Air Conditioning!
We are here for you if you would like to discuss any of our commercial or residential HVAC offerings with a knowledgeable member of our Parkland, Florida air conditioning service team. You can get in touch with us right now if you give us a call at 954-971-1000.