Commercial Air Conditioning, Installation, and HVAC Repair in Coral Springs, Parkland, Plantation, Pompano Beach, FL and Nearby Cities

Our Business Is Keeping Your Business Comfortable
Commercial AC Installation & Repair by Quality Air Conditioning
SAME-DAY SERVICE
For over four decades, South Florida businesses have trusted Quality Air Conditioning for expert air conditioning repair and installation services. As a family owned-and-operated business, we understand the importance of getting service when and where you need it. We know that the term 'normal business hours' doesn't apply when your air conditioning system isn't working and your employees and/or customers are uncomfortable. That's why we work so hard to provide same-day service for all makes and models so it's always business as usual for you.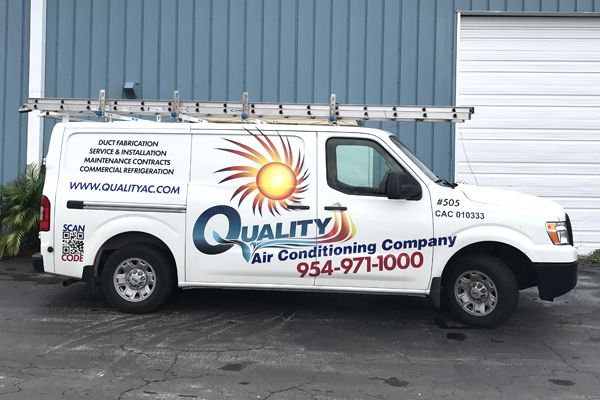 24/7 EMERGENCY SERVICE
Equally critical is protecting sensitive electronic equipment, maintaining vital temperature control in laboratories and ensuring that any process, service or medical concern that requires a constant temperature doesn't have to wait any longer than absolutely necessary. Quality Air Conditioning has earned a stellar reputation for quick response. Emergency service is ALWAYS available at Quality Air Conditioning for all makes and models. Using the latest in computer dispatching, our technicians receive almost instantaneous notification of a service call request.  Each of our service trucks are stocked with over 800 of the most commonly needed parts, as well as necessary equipment to perform a myriad of services. We know you don't want to wait one minute longer than you have to…and Quality Air Conditioning makes sure you don't have to.
CONVENIENT SERVICE AGREEMENTS
From payroll to inventory control, employee training to maintaining customer satisfaction, today's business owners and managers have more than enough responsibility to fill each and every day. Maintaining your facility's air conditioning system shouldn't be added to the list. Quality Air Conditioning can simplify your to-do list with an affordable and effective Service Contract/Maintenance Agreement. We'll make sure all general maintenance is done for your system(s), ensuring you get maximum performance and efficiency and reduce the chance of a mechanical failure. Keep your cooling system up and running at peak efficiency without lifting a finger with a Service Contract from Quality Air Conditioning.
NEW COMMERCIAL AC INSTALLATION
You work hard to provide the best in products and services to your clients…and you expect the best in the services you depend upon to conduct your business. Quality Air Conditioning shares your commitment to excellence by offering the best the industry has to offer in high-efficiency commercial air conditioning systems.
The Best Equipment
As an HVAC service provider, Quality Air Conditioning has repaired literally thousands of units since 1971. Throughout the years we have recorded the different brands and the frequency of repair visits for each brand. We also noted the performance and durability of the many various makes and models. This made it easy to choose the brands we would offer to our clients. They are Carrier, American Standard and Rheem. These manufacturers share our commitment to excellence and it shows. Durable, efficient and dependable, these brands have historically required the least amount of repairs by our technicians. We're proud to represent the finest products they have to offer.
The Best Advice
Our commercial customers appreciate the time we spend analyzing your facility, making sure we understand your needs. Underestimating costs you money by running your system more often in order to maintain the comfort level you want, while overestimating the size you need wastes money. By carefully considering all factors, our technicians can suggest the right system for every application.
The Best Installations
Our technicians have the experience necessary to handle even the most complicated commercial installations. Factory-trained professionals, they have the knowledge required to get the job done quickly with minimum interruption. Our technicians are experts at seamlessly integrating your new system into your facility. If ductwork is necessary, we handle it, ensuring everything is tailored specifically to your needs. In our mind, every installation is essentially a custom installation.