AC Replacement Near Me
Your air conditioner is an appliance of many functions. While you only recognize your AC unit for providing your home and/or business with cool air, it does so much more. AC units not only provide cooling, but they repel hot air, control humidity, and contribute to indoor air quality. If your unit isn't doing its job, then it may be time to search for AC replacements near me on your browser.
At Quality Air Conditioning Company, we go above and beyond the call of duty to ensure that you receive the best service possible. Whether you're looking to replace an old and outdated unit, or you're desperately taking to the internet to search for AC replacement near me, we meet your needs with quick and reliable replacements that are generally completed in one day or less. For experience and professionalism, you can rely on, contact us today!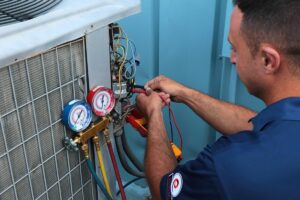 Air Conditioner Replacement
Replacing your AC unit has several benefits. From increased airflow, reducing energy costs, and better indoor air quality, replacing your unit can offer you the reliable cooling that you, your household, and/or your business deserves. But finding the right HVAC system can be a challenge!
Our experts work closely with you to help you find the right unit for your needs, wants, and budget. Not only do we help you select the right size unit for your home, but we present you with a range of quality units that vary in energy efficiency (SEER) and warranty. Working with trusted suppliers, we offer you the best brands on the market, including:
Tempstar
RUUD
Bryant
Carrier
Rheem
York, and more!
Replacements & AC Repair Near Me
There are several reasons why you may need an AC replacement. From saving on energy bills to replacing units that are more than 12 years old, replacements can help you improve your home or business, and save money in the long-run. If you've been searching for AC repairs near me online, then it may also mean that it's time for a replacement.
As a general rule, if AC repairs cost more than $5,000, then you're better off purchasing a brand-new unit. However, if costs are below $5,000, you may be able to repair your unit to its original glory without the headache. Our technicians offer a range of AC repairs including:
Emergency Repairs
Refrigerant Repairs
Frozen Condenser Coils Repairs
Broken Compressor Fan Repairs
Drainage Repairs, and more!
If you've been searching for air conditioner repairs near me OR AC replacements near me in Fort Lauderdale, Margate, Pompano Beach, FL or the surrounding areas, then the search is over! Call us today to learn more about how we can help!