AC Replacement in Boca Raton, FL
From messy water leaks and poor airflow to subpar cooling and inconvenient breakdowns, older air conditioning systems are often more trouble than they're worth. If these problems sound familiar, getting a replacement might be the best way to beat the Boca Raton heat.
Our expert technicians at Quality Air Conditioning Company will visit your home or business and thoroughly assess your cooling system. Usually, the problem is easily fixable with our AC repair services. However, with heavily damaged or dated units, getting an AC replacement in Boca Raton might be the more cost-effective option.
Air Conditioner Replacement in Boca Raton
The average air conditioning unit can last you between 10 to 15 years with professional AC maintenance. Any older and your AC unit will begin to exhibit the effects of wear and tear.
Similar to any complex machinery, ACs run less efficiently as they age. Since older units require more energy to maintain the same degree of cooling, you might see a gradual rise in your electric bills over time. Dated cooling systems are also more prone to breaking down, which leads to frequent repairs and component replacements.
As a leading Boca Raton air conditioning contractor, we always recommend solutions that save you money in the long run. We won't recommend an air conditioning installation or replacement unless it's in your best interest.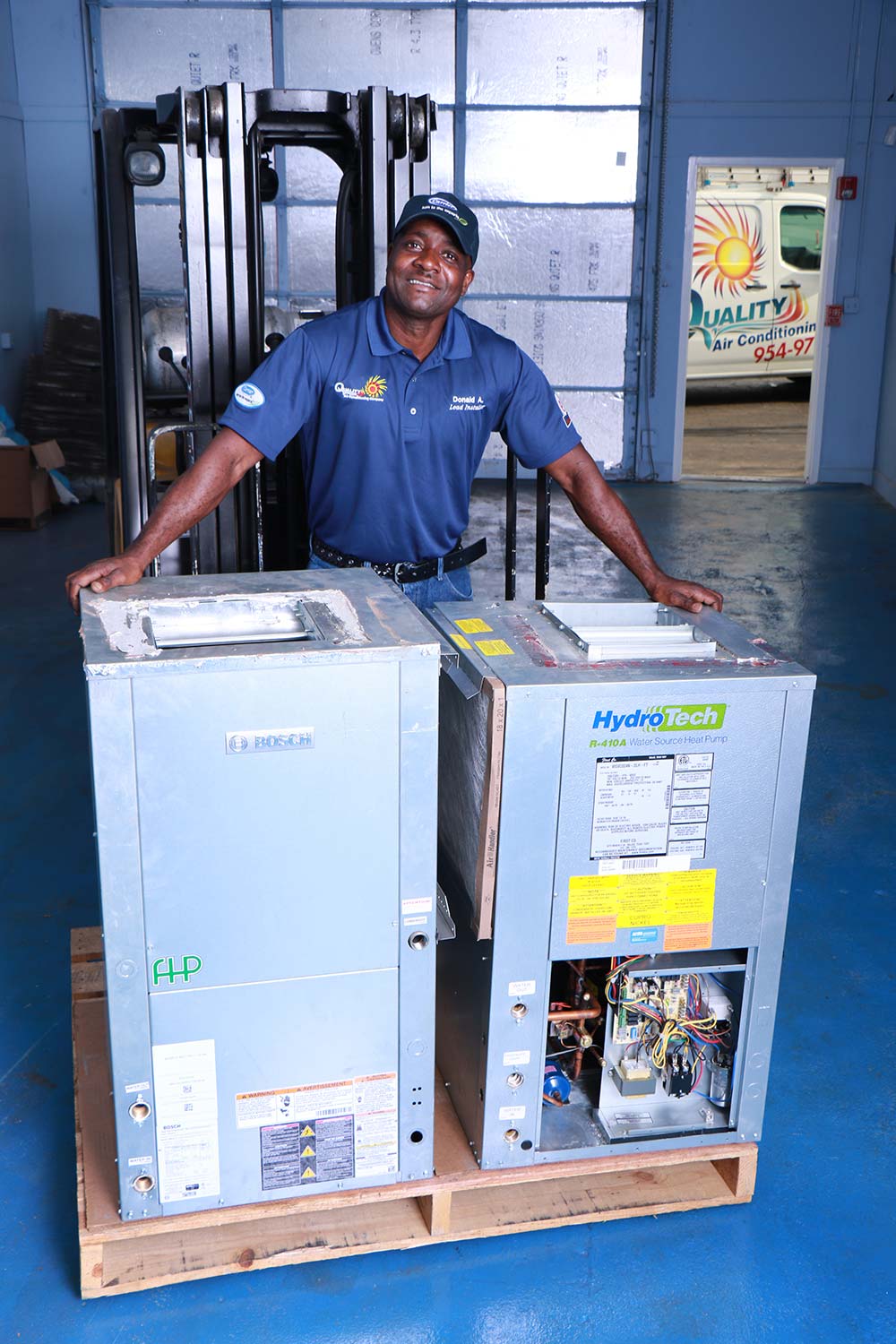 Boca Raton AC Repair
The Trusted Local AC Service Provider
South Florida is known for its constant warm weather. In July and August, temperatures can reach into the 90's, so it's important to have an air conditioning unit that is well maintained. If your AC system won't get cool or stops working, our staff at Quality Air Conditioning Company can help. Whether you have a scheduled appointment or need same-day emergency service, our team will answer the call for AC repair in Boca Raton, FL.
Schedule Your Air Conditioning Repair Service Today!
Air Conditioning Installation for AC Replacement in Boca Raton, Florida
If you're on the fence about getting a new air conditioner, here are some great perks to having the latest cooling technology that might help you decide:
Improved Comfort: Modern systems create cool air faster and circulate it throughout your rooms more efficiently to maintain constant indoor comfort.
Better Air Quality: Apart from keeping you cool, the latest AC models offer superior humidity control, air purification, and even auto-cleaning designs!
Higher Durability: A new air conditioning system can easily last you two decades with proper maintenance.
Long-Term Savings: An energy-efficient system will save you money on utility bills.
Boca Raton is a tropical city paradise with lush parks, stylish retail stores, and a collection of hotels and resorts that draw thousands of visitors each year. When you finish sampling the city amenities, you can lounge on the surrounding sandy beaches and splash in the Atlantic's deep blue ocean waves. The city experiences year-round South Florida heat, making indoor cooling a mainstay for every building in the vicinity.
Whether you require a small window-type unit or an extensive multi-level cooling system, rest assured that our air conditioning services won't disappoint. Call our Quality Air Conditioning technicians at 954-971-1000 to schedule your AC replacement in Boca Raton today!