When it is scorching heat outside, the only shelter we seek is inside our homes. However, due to the harmful effects of global warming, it has become extremely unbearable to even sit at home. That is why an air-conditioner is no longer a luxury for us but it is an unavoidable necessity. So, of course you can imagine, if something goes wrong with your ac, the kind of havoc it can bring down on your house. We, at Quality Air Conditioning Company, can offer easy and efficient AC repair services. We have been in this industry for more than 50 years now. We can provide all kinds of air-conditioning services, right from repair, replacement and maintenance services for both residential as well as commercial clients. Along with that, we also ensure the quality of air is also superior with the help of effective air quality control systems. So, if you are from areas like Boca Raton, Boynton Beach, Coral Springs, Deerfield Beach, Delray Beach, or Fort Lauderdale, you can resort to us.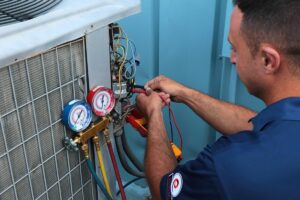 Here, we have put together a few things to check before choosing an AC repair service. Take a look.
Experience
First of all, you should check the experience of the company and make sure that the company has dealt with several kinds of ac issues. If it is experienced and aware of the major problems that you can come across with your ac, then it can easily identify your issue and provide a viable solution.
Technicians
Next, you should check the kind of technicians the company has. Make sure the technicians are qualified and well-trained to handle all sorts of ac problems.
Charges
Lastly, you should also keep an eye on the kind of amount charged by the company for the repair services rendered. Then, you can compare the rates and understand if it is the right one for you.
So, if you are looking for such a service, quickly get in touch with us now.