Air Quality Purification in Margate, Parkland, Plantation, Pompano Beach, Sunrise, Tamarac FL and Surrounding Areas
Breathe Better…Live Better
Air Purification by Quality Air Conditioning
Safe and Effective Air Purification
As a homeowner or business owner, ensuring the air you breathe is clean and healthy is paramount. Airborne pollutants such as bacteria, viruses, allergens, and volatile organic compounds (VOCs) can have a significant impact on your health and wellbeing. This is where whole-house UV light and activated carbon air purifiers come in. These products, from Fresh-Aire UV, offer advanced air purification solutions that can help you breathe cleaner air.
UV Light Air Purifiers and Carbon Air Purifiers
Whole-house UV light air purifiers use ultraviolet light to sterilize and eliminate bacteria, viruses, and other harmful pathogens that may be present in your indoor air. This technology has been proven to be effective in reducing the spread of airborne diseases, particularly in enclosed spaces such as homes and offices. Activated carbon air purifiers, on the other hand, use activated carbon to absorb and remove VOCs and other gases from the air. These systems can effectively remove odors, smoke, and other unpleasant smells.
The Most Advanced Indoor Air Treatment Systems!
If you're looking for an effective and long-term solution to indoor air pollution, then whole-house UV light and activated carbon air purifiers are worth considering. These products provide comprehensive air purification solutions that can improve your indoor air quality, promote better health and wellbeing, and enhance the comfort of your home or business. Call or email Quality Air Conditioning for more information about and how we can better purify the air you breathe! We'd be happy to answer any questions you may have and help you choose the right air purifier for your home or office
Fresh-Aire UV Indoor Air Quality Solutions
We have determined that Fresh-Aire UV air quality solutions are unmatched for reliability, efficacy, and affordability. To provide a basic overview, the typical HVAC filters that we utilize are intended to prevent large clumps from entering the system. Smaller particles and gases pass right through, but things are entirely different when Fresh-Aire UV Cleaners are put into place. They are easily installed, and they captured 97 percent of the particles that are at least .3 microns in size.
Just in case you don't know how large a micron is (like pretty much everybody), the eye of a needle has a diameter of over 1200 microns. That being stated, you don't have to accept breathing the tiny contaminants for long. This smart airspace technology uses the agglomeration principle to bring these miniscule sub-micron particles together as they pass through the HVAC system repeatedly. Eventually, the conglomeration gets large enough to be captured by the filter.
Polarized-Media Air Cleaners
The Fresh-Aire UV polarized media air cleaners that we source and install slide effortlessly into the existing HVAC filter racks. There is no need for any modifications to the ductwork, and they are easy to maintain. You don't have to wash any of the components, and the system operates safely and quietly to intelligently capture and agglomerate harmful particulate matter.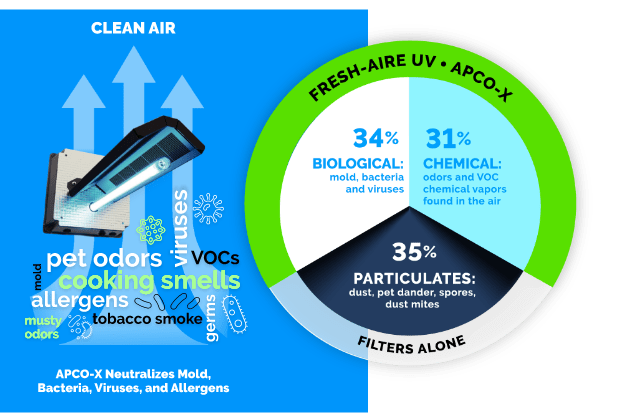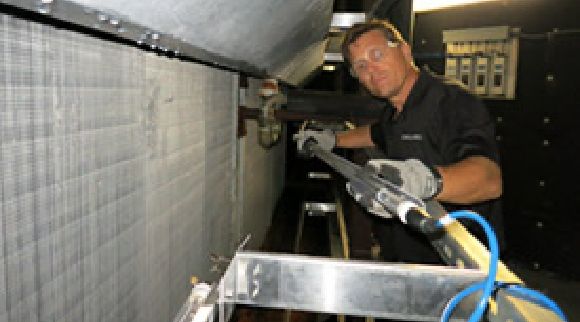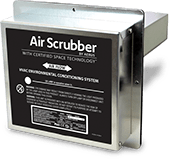 Air Scrubber by Aerus
ActivePure® Technology that attaches directly to the HVAC system ductwork to remove air pollution, VOCs, surface contaminants, pet dander, odors, and dust, resulting in a cleaner, healthier and more efficient home.
Call or Click Today!
If you would like to discuss indoor air quality solutions with a knowledgeable member of our team, we can be reached by phone at 954-971-1000. There is also a contact page on this website you can use to send us a message electronically.