Air Conditioning Service Plans in Deerfield Beach, FL
If you are a homeowner in Deerfield Beach, Florida HVAC service contracts can save you money on a number of different levels. Our company, Quality Air Conditioning, has been a leading provider of air conditioning service plans in Broward County for more than four decades, and we have established an extraordinary customer satisfaction rate.
This very special city is a great place to live and work, and we feel a close connection to its residents. From Lakeview to Ocean Vue to Crystal Lake to Bonnie Loch, Quality AC is the name that you can count on for residential service contracts in Deerfield Beach, Florida.
HVAC Service Contracts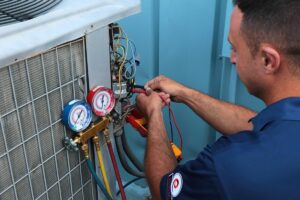 When we say that our HVAC service contracts can save you money in more ways than one, we are speaking from personal experience. Oftentimes, when our technicians go out on a repair call, they find very serious, costly problems that could have been avoided if the proper maintenance had been conducted along the way.
Plus, even if your air conditioner is keeping your home cool enough, a system that is running inefficiently can ratchet up your electric bills unnecessarily. You make a small investment when you enter into a Deerfield Beach, Florida HVAC service contract, but in the long run, it is money well spent.
Our basic air conditioning residential service plan is very affordable at just $19.99 per month, and it provides a solid level of protection. This plan includes two service calls each year to provide preventative maintenance, and you get six filters each time we come out to your property.
There's another major benefit that you get when you are on this residential service plan. Unsavory debris can accumulate in your air ducts, and you and your family will breathe this matter if the air ducts are never cleaned. Our basic plan includes air duct fogging to disinfect and sanitize your ductwork, and you also get a 15 percent discount on systems, labor, and parts if you ever need any AC repairs.
We also offer an ultimate plan, and this package can provide you with total peace of mind. People who are members can call us at any hour of the day or night to perform repairs, and they are done absolutely free of charge. You get the semiannual maintenance visits and air filters each and every month, and the duct fogging is also part of this package.
Give Us a Call Right Now!
If you would like to discuss our Deerfield Beach, Florida air conditioning service plans with one of our team members, we can be reached by phone at 954-971-1000.