AC Repair in Fort Lauderdale, FL
Is your AC unit blowing hot air? Is there a pool of water around your unit? Are you hearing strange sounds when you turn on your air conditioner? If so, then it may be time for air conditioner repairs–and we can help!
At Quality Air Conditioning Company, we provide professional air conditioner repairs to Fort Lauderdale, FL, and the surrounding areas. From residential air conditioning repairs to commercial AC maintenance, and everything in between, we make air conditioning services hassle-free and convenient. Get in touch with us today to require service or inquire about AC repair!
Air Conditioner Repair for Fort Lauderdale
When your residential air conditioning unit is failing you, then give us a call! With over 50 years of experience in AC repairs and maintenance, we've kept up on the latest trends and technologies in residential AC repairs to provide you with efficient and professional repairs for your residential air conditioning unit. With 24/7 emergency services, we're just a phone call away, ready to help you at the drop of a hat. Here's why Fort Lauderdale residents choose us for residential air conditioning repairs:
FREE service call for repairs of $150
Over five decades serving South Florida
Maintenance plans and inspections
5/5-star reviews
Promotions & financing options
Air quality control services
Working with over a dozen AC carriers
24-hour emergency AC services
State Certified Class "A" Air Conditioning Contractor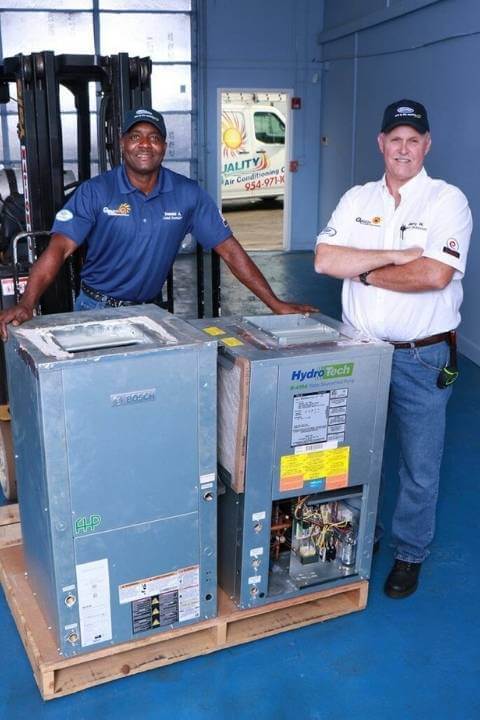 Fort Lauderdale AC Repair
The Trusted Local AC Service Provider
South Florida is known for its constant warm weather. In July and August, temperatures can reach into the 90's, so it's important to have an air conditioning unit that is well maintained. If your AC system won't get cool or stops working, our staff at Quality Air Conditioning Company can help. Whether you have a scheduled appointment or need same-day emergency service, our team will answer the call for AC repair in Fort Lauderdale, FL.
Schedule Your Air Conditioning Repair Service Today!
Fort Lauderdale AC Repair
From boating, dining, partying, and enjoying nature, Fort Lauderdale lacks no options in entertainment for residents and visitors. Whether you enjoy strolling through Las Olas or exploring Fort Lauderdale's art scene, Fort Lauderdale has all the conveniences of the city, mixed with the charms of paradise living. But more than a great place to live, Fort Lauderdale is a great place to own and operate a business.
As a locally owned and operated Fort Lauderdale business ourselves, we are proud to serve other businesses in our area with commercial air conditioning services. If your commercial air conditioning unit isn't operating as it should, then you may benefit from air conditioner repairs. While AC repair companies claim to have all the answers, the reality is, not everyone knows how to work on your commercial air conditioning unit. With over 100 models on the market, we have a team of technicians skilled in all types of air conditioner repairs, ready to help you with your unit. For experience, you can trust, give us a call today!