Air Conditioner Repair in Fort Lauderdale, FL
The days between June and September are warm and sunny in Fort Lauderdale. It's the perfect time to enjoy outdoor activities, but not so much for staying indoors, where the heat can quickly ramp up without a working air conditioner.
If you encounter problems with your AC unit, don't hesitate to call the Quality Air Conditioning Company for a reliable air conditioner repair in Fort Lauderdale. We constantly improve our services to match the highest industry standards, so you can rely on our team to get things right, no matter how complex the task.
Air Conditioner Repairs in Fort Lauderdale
Many Fort Lauderdale residents and business owners will only call an HVAC contractor when their heating or cooling systems finally refuse to work. If you want to avoid the enormous inconvenience of a complete breakdown–and the costly repairs that come with it–you should contact us the moment you notice these common signs of disrepair:
Weak or inconsistent cooling
High levels of indoor condensation
Fast or random cycling
Odd noises coming from the unit
Water leaks
Poor airflow
Having any of the above issues fixed promptly can help prevent the need for a total AC replacement.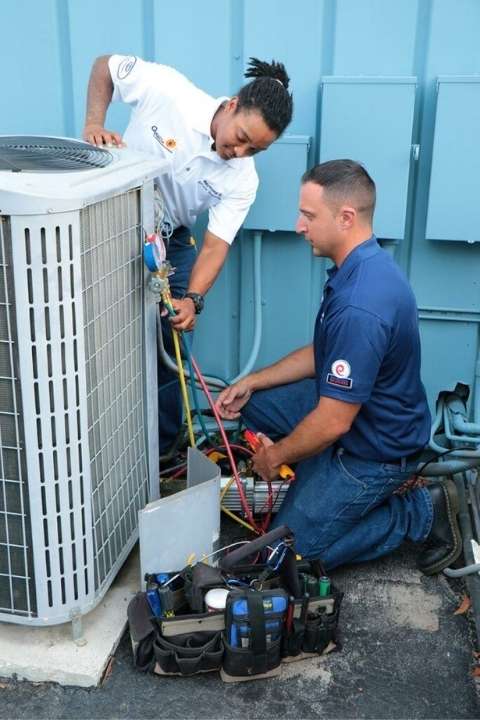 Fort Lauderdale, FL AC Repair
The Trusted Local AC Service Provider
South Florida is known for its constant warm weather. In July and August, temperatures can reach into the 90's, so it's important to have an air conditioning unit that is well maintained. If your AC system won't get cool or stops working, our staff at Quality Air Conditioning Company can help. Whether you have a scheduled appointment or need same-day emergency service, our team will answer the call for AC repair in Fort Lauderdale, FL.
Schedule Your Air Conditioning Repair Service Today!
HVAC Repair and Service in Fort Lauderdale, Florida
At Quality Air Conditioning, we leave no stone unturned when it comes to HVAC service. Our AC repair service follows a comprehensive multi-point plan that covers every component in your system, and it includes:
Repairing and Cleaning Condensate Lines: We can fix clogged or leaking condensate lines before they cause severe damage to the rest of your system.
Lubricating Moving Components: We can minimize the friction between moving parts with lubrication and protect them against premature wear and tear.
Cleaning Air Filters: Dirty filters can lower your indoor air quality and hinder airflow, which is why we recommend regular maintenance.
Fixing Refrigerant Lines: We keep an eye out for leaking refrigerant lines since low refrigerant levels will significantly diminish your AC unit's performance.
Fort Lauderdale is one of the ten largest cities in Florida, with a population of over 190,000. The area has rightfully earned the moniker "Venice of America" due to its sprawling canals and proximity to the Atlantic Ocean and New River. From shopping on Las Olas Boulevard to taking gondola rides through the inland waterways, there's no shortage of things to do in this beautiful city.
Quality Air Conditioning is ready to serve if you need an air conditioner repair in Fort Lauderdale. Whatever the job, we offer nothing less than a 100% satisfaction guarantee! To schedule your service, call us today at 954-971-1000.