AC Replacement in Deerfield Beach, FL
Finding a good company for air conditioner replacement services doesn't have to be a hassle! At Quality Air Conditioning Company we have over five decades of experience providing quality AC replacements to our clients in Deerfield Beach, Florida, and the surrounding areas. Whether you're looking for affordability, professionalism, quality, or service, we have what you need! Call us today for more information on our air conditioner replacement services for your Deerfield Beach home/business.
Air Conditioner Replacement in Deerfield Beach, FL
Your air conditioner has a big job to do! From keeping you and your guests comfortable to removing excess moisture in the air, and more, your AC unit is perhaps one of the most important technologies in your home.
If you need an AC replacement your HVAC unit will let you know. Here are some common signs that it's time for an air conditioner replacement:
Age of Unit – When's the last time you had an AC replacement? If it's been more than 15 years, it may be time to look into an air conditioner replacement.
High Humidity & Uneven Cooling – If your unit isn't removing moisture or cooling your home/building evenly, then it may be time for an AC replacement.
Constant Repairs – If you find yourself constantly calling for AC repairs, then it may be cheaper to just replace your HVAC unit entirely!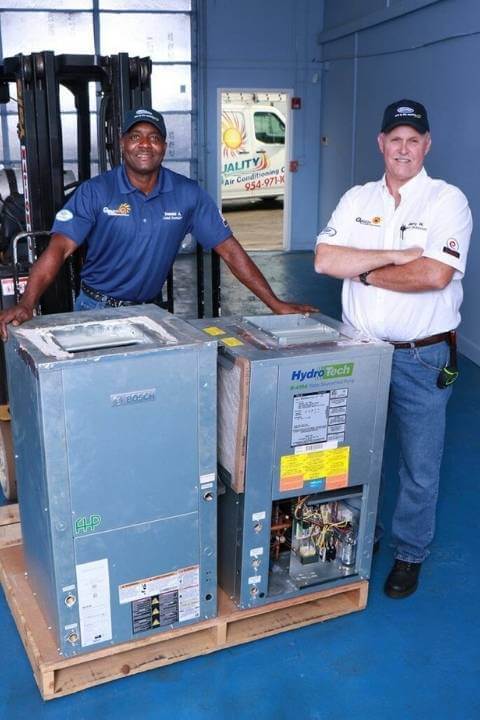 Deerfield Beach AC Repair
The Trusted Local AC Service Provider
South Florida is known for its constant warm weather. In July and August, temperatures can reach into the 90's, so it's important to have an air conditioning unit that is well maintained. If your AC system won't get cool or stops working, our staff at Quality Air Conditioning Company can help. Whether you have a scheduled appointment or need same-day emergency service, our team will answer the call for AC repair in Deerfield Beach, FL.
Schedule Your Air Conditioning Repair Service Today!
AC Replacement for Your Deerfield Beach Home
Just south of Palm Beach County, Deerfield Beach, Florida is named after the many deer that wandered the area before its urbanization. While Deerfield has plenty of entertainment and shopping options, it still holds true to its rural charms including parks and miles of white sandy beaches that its residents and visitors enjoy. As a historic gem seated on the outskirts of Miami, Deerfield Beach offers quiet living options in a peaceful and tranquil location. Whether you live in Deerfield Beach, FL or you're just visiting, one thing is for sure–you won't want to leave!
At Quality Air Conditioning Company we are proud to offer residents in Deerfield Beach, Florida and the surrounding areas affordable and professional AC replacement services. Working with the most respected air conditioner suppliers in the nation, it's our pleasure to provide your home with the highest standard of air conditioner technology on the market. From Train, York, Ruud, and everything in between, we carry the best air conditioner replacements for your home. Need an emergency AC repair? We also provide 24/7 emergency AC services that get your unit up and running in no time! Get in touch with us today to request HVAC services!