AC Repair in Deerfield Beach, Plantation, Coconut Creek, Parkland & Sunrise, Florida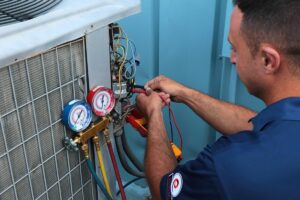 If you need an AC repair in Sunrise, Parkland, or Coconut Creek, Florida, you have identified the ideal resource. Quality Air Conditioning Company has built a reputation as the premier resource for air conditioning repairs in this area, and we put it on the line each and every day. In addition to the cities mentioned above, we will always be here to help if you need an AC repair in Plantation or Deerfield Beach.
When we say that we will "always" be ready to spring into action to provide AC repairs, we mean it quite literally. We are well aware of the fact that emergency situations can call for immediate action. If you need an AC repair in a hurry, we can be reached 24 hours a day, seven days a week. Plus, we always try to provide same day AC service in Coconut Creek and the other cities that we serve, even if the situation cannot be described as an outright emergency.
Top Quality Technicians
We are very discerning during the hiring process, and this is one of the secrets to our success. Everyone that is a member of our team has gone through a very careful vetting process, because we want nothing but the best and the brightest. These dedicated professionals sincerely care about the quality of the AC repair work that they do, and they are motivated by their commitment to the well-being of our neighbors.
Our trucks are very well equipped with parts, and our people have all the latest state-of-the-art tools with them at all times. As a result, we can usually get the job done on the first trip when we are called out on an AC repair assignment in Parkland, Deerfield Beach, Sunrise, or any of the other surrounding communities.
The work that we do in the field is second to none, but we know that local homeowners do not have unlimited budgets. We are sensitive to this dynamic, and we have developed efficient processes, so people are usually pleasantly surprised when they get AC repair quotes from us.
We Will Be Here When You Need Us!
For AC repairs in Deerfield Beach, AC repairs in Plantation, and AC repairs in Coconut Creek, Parkland, and Sunrise, Quality Air Conditioning is the right choice. Whenever you need us, we can be reached by phone at 954-971-1000. You can alternately send us a message through our contact page if the situation is not an emergency.