CALL TO SCHEDULE YOUR AC REPAIR
Residential and Commercial Air Conditioning Repair, Replacement & Maintenance in S. Palm Beach County & throughout Broward
Servicing South Florida Air Conditioners since 1971.
Quality Air Conditioning Company specializes in efficient, reliable A/C solutions that meet the specific needs of our residential customers and commercial business owners in South Florida.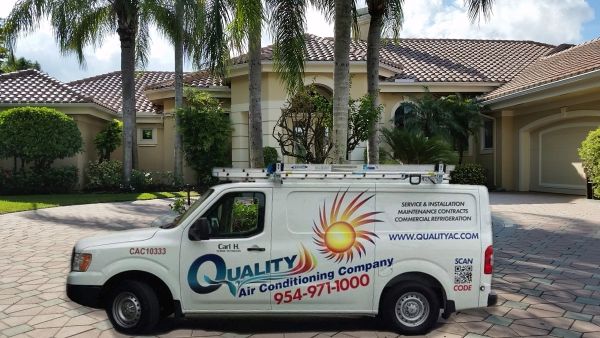 A/C Repairs, Replacement & Maintenance
Are you wondering if you should repair or replace your AC unit?
Our technicians will evaluate your situation and let you know the options before you commit.
"Our basic formula for determining repair or replacement is:  AGE X REPAIR must be less then $5000.00"
WE REPAIR ALL
MAKES & MODELS MAINTENANCE
AGREEMENTS RESIDENTIAL A/C
REPLACEMENT COMMERCIAL A/C
MAINTENANCE FINANCING
AVAILABLE* Watch for our New Website, Coming Soon!
Company Information
Quality Air Conditioning Company, Inc.
720 W McNab Rd.
Fort Lauderdale, FL 33309
Phone: 954-971-1000
Toll Free: 800-649-5415
Fax: 954-978-6658
Telephone Extensions
SERVICE – Ext 1
REPLACEMENT /  SENIOR TECHNICIAN – Ext 2
SERVICE CONTRACTS – Ext 3
PARTS – Ext 5
WAREHOUSE – Ext 6
ACCOUNTING – Ext 7
HUMAN RESOURCES – Ext 8